We are all so excited to have Wendy back to the store. She is an amazing teacher, teaching you techniques that will amaze you. Wendy taught at my store years ago before she had her stamp line and signature line with Ranger, I knew then that this lady was going places.
A little about Wendy.........
Wendy Vecchi is a full time artist/designer and owner of studio 490.

She is a signature designer for Ranger, Stampers Anonymous and Blossom Bucket, Senior Educator for Ranger, and a past member the Tim Holtz and Maya Road design teams.
Wendy loves to demo and teach at stores and events across the country and has been published in numerous publications. She was the guest instructor for the Artful Voyage in Mexico with Tim Holtz, in October of 2009.
Her style is unique and eclectic with an exceptional attention to detail and a fresh approach to the creative spirit. She shares her love of techniques on her blog and reminds you that whatever you do each day just – "Make Art!".
Let's mix media and MAKE ART!
2 Day Workshop $225
Includes lunch both days ( 1hr. break)
Sunday & Monday 9:30am ~

6:30pm




June 8th & 9th



Sneak Peek at the Covers of the Art Journal......


A Sneak Peek at the pages in the Art Journal......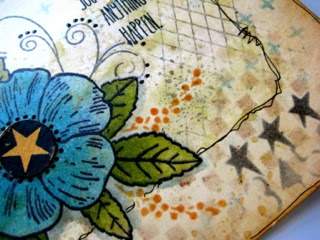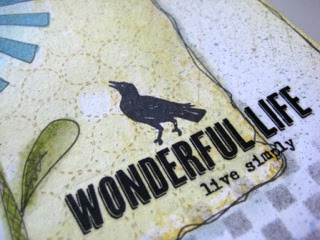 Come join us and spend 2 full days focusing on mixed media and art journaling. We'll be creating a large art journal. YES...it's LARGE... 9 inches by 7 inches. We'll start by creating the journal covers using my art parts, archival inks and embossing pastes. When the covers are complete, we'll work on our art journal pages. Each page will have a technique as it's focus.
Since it's a mixed media weekend, we'll be using lots of fun supplies like embossing pastes, archival inks & reinkers, distress inks & stains, remnant rubs, idea-ology and much more.
You'll learn new techniques and how to use your products more than one way.
I'll provide plenty of choices for stamps, stencils and ink colors, so that you can customize the journal and make it totally YOURS.
We'll ink, stamp, stain, emboss, collage, stencil and...MAKE ART!
Please bring only these 4 items...
craft sheet, ink blending tools & replacement foams, wet paper adhesive, and scissors.
I CAN NOT WAIT to make art! I hope to see you there!
~ Wendy Vecchi


FOR QUESTIONS OR SIGN-UPS CALL THE STORE 972-923-3151
OR EMAIL
carolyn@thecraftyscrapper.com for Carolyn
gena@thecraftyscrapper.com for Gena